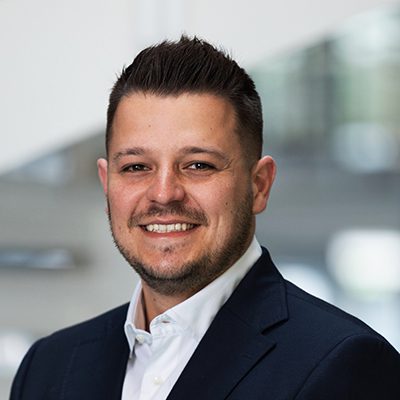 Arianit Bytyqi
Co-Managing Director & Partner
After my training as a retail specialist with a focus on consulting, I started as a recruiter for temporary assignments in the main and secondary construction trades.
After one and a half years, I moved to the field service in the digitalization industry, where I was able to develop my skills over a period of two years. After that, I was drawn back to human resources, this time in a Swiss construction company, where I was responsible for personnel recruitment, development, planning and scheduling.
It was therefore clear to me that the construction industry unites my interest and passion. However, in the internal position I was missing the sales, the broad view and the challenge and so I decided to go back to the personnel service in 2019, but this time with a focus on permanent employment/recruiting/headhunting in the field of construction & real estate.
During this time, I also began further training to become a business administrator, which helped me to understand our customers and their situations even better. At that time I also met my current business partners Tino Glanze and Dominik Müller. Tino was my team leader and Dominik my buddy. Both were always helpful, supported and challenged me. Today, the three of us manage and lead the company.
I grew up in the Zurich Unterland with my two brothers. As a kid, I was often on the soccer field in my free time, either as a player myself or as a spectator at my brothers' games. Today, not much has changed, except that I'm even more crazy about soccer and often combine my passion for traveling with playing soccer. In addition, I do one or the other sport in my free time - like padel tennis, golf or skiing.
My job as Co-Managing Director and Advisor fulfills me today, because I meet new people every day in the most diverse life situations and with the most diverse ideas and wishes. This challenges me every day anew and gives me a lot of joy, because no day is like the other!